Don't be scammed: Stay alert to schemes that "demand" money now!!
There really is nothing worse than being duped. On any level it stings a bit, but when someone intentionally causes physical or emotion harm, it can cause damage that is beyond belief.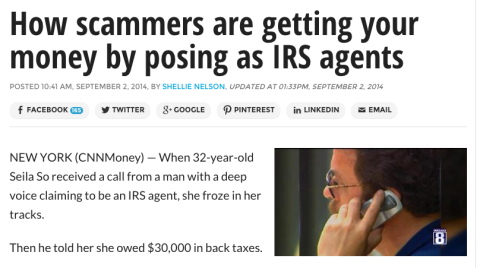 Earlier this year, 32-year-old Selia So was taken for $30,000 by a scammer that was posing as an IRS agent. She was contacted by phone by a man claiming that she owed $30,000 in back taxes. He stated the IRS had been trying to contact her for months on end and that if she didn't make a payment immediately, that she would be arrested on site by the local authorities.
So panicked and ended up staying on the phone with the scammer, driving to the bank to withdrawal the money and eventually converting all of the cash onto 30 separate GreenDot MoneyPak cards. The scammer then had her scratch the strips off of the backs of the cards and read the codes, thus allowing the all the cash to go directly onto a prepaid card to be cased out.
"He was so aggressive and threatening, it scared the daylights out of me," So said. "I didn't know what to do except follow instructions. How can I question the IRS?" Following the ordeal, So contacted a  friend about the experience. A few minutes after the phone call, her friend emailed her an article warning people against the scam.
 "I couldn't stop crying, because all my money was gone," she said. "I thought, 'How could I be so stupid?' I didn't know what to do — my body was numb,' said so.
So could have avoided the entire scam is she would have known a few telltale signs of a scammer.
1. Call you about taxes you owe without first mailing you an official notice.
2. Demand that you pay taxes without giving you the chance to question or appeal the amount they say you owe.
3. Require you to use a certain payment method for your taxes, such as a prepaid debit card.
4. Ask for credit or debit card numbers over the phone.
5. Threaten to bring in local police or other law-enforcement to have you arrested for not paying.
If you happen to have dues to the IRS, they will contact you in one of a few ways. First, they will institute an IRS tax lien search or file an IRS wage garnishment. They will never threaten you with an immediate arrest or seizure of property before launching IRS tax liens.
Source: How scammers are getting your money by posing as IRS agents – September 2, 2014 – WQAD.com