Even if you're a famous television personality, IRS tax liens happen
The bottom line is that the IRS will get its money. Regardless of whatever station you assume in life; if you owe them money, they will get it. Once or twice a year we hear a story about a random celebrity being in trouble for some sort of tax evasion. If anything, the publicity generated from these stories is just another reminder that no matter whom you are. Recently, MSNBC's Melissa Harris-Perry and her husband, James Perry had an IRS tax lien filed against them for the amount of $70,000 in delinquent taxes.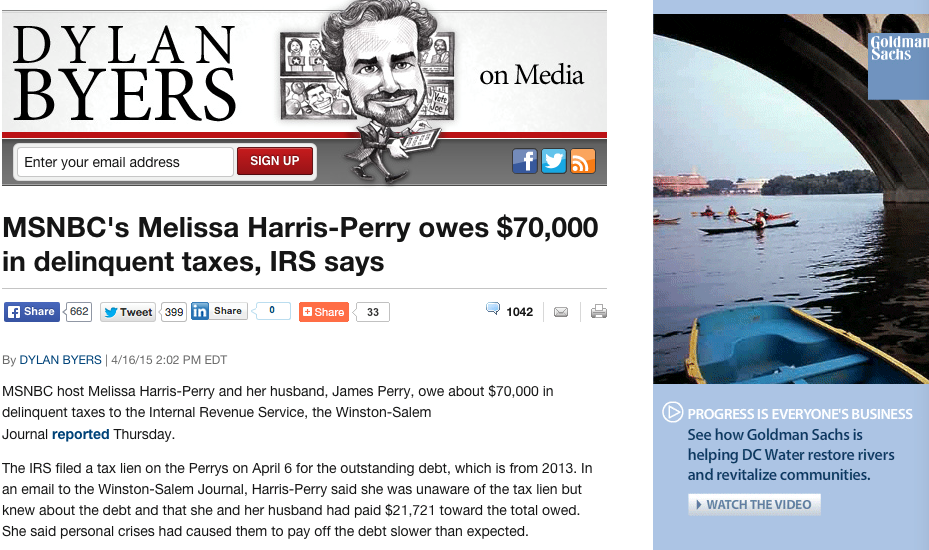 On April 6th the IRS filed a tax lien on the Perrys for their outstanding taxes, dating back form 2013. Harris-Perry was reported to have not known about the tax lien but knew about the issues and had paid $21,721 up until the lien was filed.
Harris-Perry isn't the only MSNBC affiliate to not pay her taxes on time, but the Rev. Al Sharpton had more than 4.5 million in current state and federal tax liens against him and for his for-profit businesses.
Luckily for you, if you're a little bit behind on your taxes, you won't get pulled through the media mud. The good news is, is that there are options to help you get on top of the situation of past taxes. If you're having a hard time figuring out a way to get the IRS off of your back, you may want to look into an IRS tax attorney like Tax Tiger.
If it's gotten to the point of facing any sort of IRS wage garnishment or if you're facing any IRS tax liens, having a profession company like Tax Tiger in your corner will help you get a clear picture and solution to your financial problems. Sometimes the issue may seem to big, so having professionals do the legwork for you will, in the long run, save you money, time and stress.
A professional tax attorney is used to dealing with and standing up to the IRS on behalf of the public, so they know all of the ins and outs of the system and are able to put your financial situation in perspective.
Source MSNBC's Melissa Harris-Perry owes $70,000 in delinquent taxes, IRS says – April 16, 2015 – Politico.com